Redder than Red
The Story of the first UK B-Girl

While working on the We B*Girlz book, we searched for names and photos of pioneering B*Girlz from the early days of Hip Hop. These proved surprisingly difficult to find. Although breaking had been going strong since 1980 and had spread around the world, until recently, very few girls had seriously participated in the scene. After hearing about the legendary Hanifa Queen aka Bubbles we invited her to the b-girl edition of the Gimme a Break jam in Rotterdam. After meeting her, we were drawn to her personality and her unique history and felt that she would be the perfect woman for a documentary—and thus the idea for Redder than Red was born.
| | |
| --- | --- |
| Cover of We B*Girlz | Bubbles as represented in our book We B*Girlz |


is a 17 minute documentary about Hanifa Queen Hudson aka Bubbles, the legendary first UK female breakdancer. Hanifa Queen danced with a renowned Wolverhampton crew called The B-Boys in the early 80'. The B-Boys rose to fame with appearances on TV and in the landmark Hip Hop films Electro Rock and Bombin'. Bubbles was the first girl worldwide to break and compete on the same level as the guys.
Bubbles became famous through a line in Electro Rock when the host says: "Check out the one in red—it's a girl!" Since she is Jamaican-British, we took the title from the old Bob Marley song Redder than Red.
Combining vintage and recent footage, our film explores the life history of a talented, now 37 year old, Jamaican-British girl who got caught up in the excitement of Hip Hop in the early 80's, attained a measure of fame, was virtually forgotten, but has recently re-entered the scene. In the intervening years, Bubbles converted to Islam, changing her name to Hanifa. The film captures the excitement of the early days of Hip Hop as it arrived fresh from the Bronx to England in the 80's.
Contemporary footage includes interviews with people from Hanifa's past and present and shows how her involvement in African dance, drumming, kick boxing, and her Jamaican community in Wolverhampton influenced her dancing.
The film's highlight is a reunion of Bubbles' crew, the B-Boys in the local community center where they dance together for the first time in nearly 20 years. An interview with Bubbles describing her life and her feelings about it, weaves the segments together.
The B-Boys (second generation)

© Martha Cooper
1986 The B-Boys (first and second generation) 2005
Redder than Red – The Crew

Martha Cooper aka SupaSnapZ was born in Baltimore, Maryland, graduated from Grinnell College, Iowa and spent two years teaching English in the Peace Corps before studying at Oxford University, Cambridge, where she received a Diploma in Ethnology. In 1977, Cooper moved to New York and worked as a staff photographer for the New York Post until she left in 1980 to follow the emerging hip hop scene. In 1984, in collaboration with Henry Chalfant, she published Subway Art (Thames and Hudson/Henry Holt, 1984), the classic book showcasing the best painted trains of the era that has been dubbed "The Bible" by graffiti writers. Cooper's other books of photographs include R.I.P.: Memorial Wall Art (Thames and Hudson/Henry Holt, 1994) with text by folklorist Joseph Sciorra, and Hip Hop Files: Photographs 1979-1984 (From Here to Fame, 2004), a collaboration with Akim Walta. The Director of Photography at City Lore, the New York Center for Urban Folk Culture. Cooper, who lives and works in New York City has participated in many film projects and has been producer/director of Redder than Red – The Story of B-Girl Bubbles.
Nika Kramer aka Nawtee Neek, writer, translator, and businesswoman, grew up in Germany. Kramer was the text editor and German translator of Hip Hop Files: Photographs 1979–1984 (From Here to Fame, 2004) and the text editor of We B*Girlz Kramer's fluent command of English, Spanish, and German is invaluable as she lives and works in Berlin and New York. She is producer/director and first camera of Redder than Red – The Story of B-Girl Bubbles.
Amanda Mulderry aka No.1 from Ireland studied Film Production for two years in Colasite Dhulaigh in Dublin before doing the final year of her degree at the University of Wolverhampton. Worked as production assistant on feature films, TV broadcast documentaries, short films, TV adverts and music videos. Co-directed/edited/produced an award winning TV broadcast short Larry the Bastard that screened in festivals in Ireland and England. Amanda is the editor of Redder than Red – The Story of B-Girl Bubbles.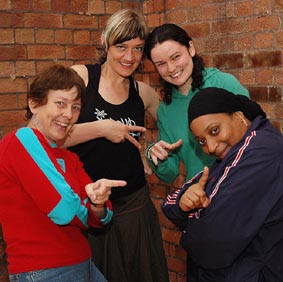 Marty, Nika, Amanda, and Bubbles